Ailing Space
Pre Alpha 63 is now live!
---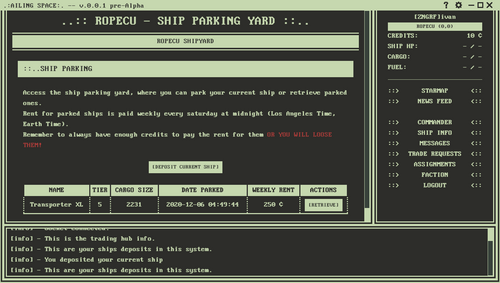 We released Alpha #63!
We just released Alpha #63 which introduces an exciting new feature: the possibility to own more than one ship and to rent parking spots in star systems shipyards to hold in your unused ships!
Obviously this feature is still very experimental and we are introducing it to test it out and to track down any problem.

Here are a few infos about it:
You can access the ship parking yard from the shipyard.
Every star system which has a shipyard has a different parking yard.
You can hold in as many ships as you want, but you have to make sure you can pay for them rent or you will loose them!
Rent is paid every saturday at midnight (Los Angeles time).
Rent is now calculated like this:(50*(ship tier)) credits each week. This can change as we go and better balance it.
Parked ships hold all their cargo and upgrades with them.
Last but not least: Ailing Space is in CLOSED pre alpha stage, but we're looking for a handful of players to test it out and give us some feedback. If you'd like to do it send us a mail to info@ailingspace.online and ask us for a pre alpha key.
Thats all for now. Have fun!