Ailing Space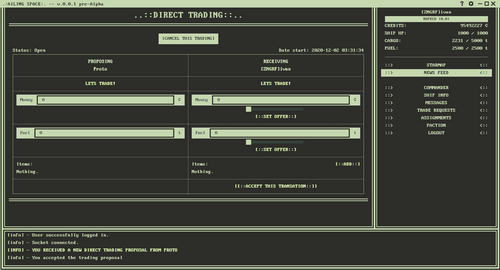 Ailing Space pre alpha 62 is now live


Some small fixes and tweaks are to be found in this update:
fixed some direct trading messages which were not correct.
when a direct trading transaction is concluded now the commander credits balance is automatically updated in the ui.
regarding the problem that arose in the faction task tutorial: now if you are already in a faction you can complete the task simply by accessing your faction page.
some of the tutorial log messages were fixed and expanded.

FUTURE FEATURES AND STUFF IN THE MAKING
The crafting system is working and we are doing a lot of data entry work to setup crafting recipes for any kind of item in the game. The basic idea is that everything which is not a farmable resource should be a craftable item.
Balancing everything: everything now is quite unbalanced, everything from crafting to economy is likely to be greatly balanced in the future. We also look forward to players feedback to help us on this.
We're working on a new feature to let CMDRs have more than one ship and be able to rent dock space in shipyards to hold in their ships.
Last but not least: Ailing Space is in CLOSED pre alpha stage, but we're looking for a handful of players to test it out and give us some feedback. If you'd like to do it send us a mail to info@ailingspace.online and ask us for a pre alpha key.
Thats all for now. Have fun!